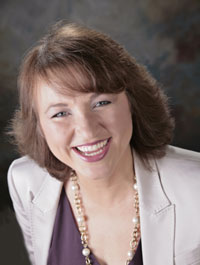 Gina Robison-Billups serves as founder and CEO of The International Association of Working Mothers (tiawm.org), a charitable, tax-exempt, 501(c)(3) organization dedicated to making a significant difference in building and sustaining healthy communities by unlocking the potential of working mothers through advocacy and education. tiawm serves as an advocate and resource for economic and social justice by providing opportunities and programs for working mothers to cultivate leadership to build strong families and strong communities.
Ms. Robison-Billups also founded and is now president of the Women's Money Council(TM) - the national council of community, financial industry, and government leaders, dedicated to significantly reducing poverty in America by providing programs for advocacy, research, education, and mentorship in order to foster financial independence and economic justice for women. The Nevada Women's Money Council(TM) in partnership with the Nevada State Treasurer Kate Marshall host the Nevada Women's Money Conferences in Reno and Las Vegas - the unique and results-driven programming of the Women's Money Council. www.womensmoney.org
Gina is most noted for being the founder and president of the National Association For Moms In Business, a program of tiawm which represents the interests of more than 15 million entrepreneurial and executive mothers. Under her leadership the organization has grown to ten locations nationwide (with three offices in Nevada), publishes Moms In Business Magazine monthly, and produced several events including the Nevada Women's Leadership Summit - the annual event celebrating the achievements of Nevada's Women and identifying high-growth opportunities in our state. www.mibn.org
Gina is the first Nevada woman appointed as a member to the National Women's Business Council (NWBC.gov), a nonpartisan federal advisory council created to serve as an independent source of advice and policy recommendations to the President, Congress, and the U.S. Small Business Administration on economic issues of importance to women business owners For the first time, moms in business and micro-business owners finally have a seat at the table to advise the President, Congress, and the SBA via Gina's service to the Council. www.nwbc.gov
Her work with home based business owners and mom business owners has earned her the title of the "Home Based Business Advocate" for the state of Nevada in 2003 and 2007 from the Small Business Administration, and she was named as a national finalist for The Women's Congress 2008 Champion for Women Awards, and a finalist for the ATHENA Leadership Award from the Nevada Women's Chamber of Commerce. IShe has been named one of Las Vegas' "Women to Watch" from Vegas, Inc., Las Vegas 100 Most Influential Women, and was the honoree of the Nevada International Women's Day Celebration Award. Gina has also previously served as the Co-Chair of the National Healthcare Committee for Women Impacting Public Policy (WIPP). She currently serves as WIPP's Nevada Instant Impact Leader and is a member of the Advisory Council for the Alliance for Nevada Non-Profits (ANN).
Ms. Robison-Billups is the co-author ofThe Accomplishment Journal for Working Moms; The Accomplishment Journal for Women Entrepreneurs; and The Accomplishment Journal for Women in Sales, and is releasing her new book Why 5% Succeed: The 5 Principles of Predictable Profit with co-author Elaine Starling in Spring 2012. Gina has been is regularly quoted in such publications as Detroit Free Press, iVillage, Las Vegas Woman Magazine, U.S. News and World Report, and USA Today, and has been requested to speak on several occasions about moms in business, microbusiness issues, and women's money power -- the highlight being at the Women's Summit with First Lady, Michelle Obama.