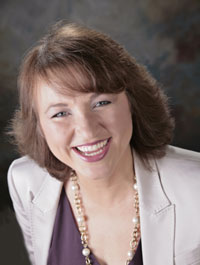 A dynamic speaker, Gina Robison-Billups, frequently presents to corporations and business and women's associations across the country, while also appearing on numerous radio and TV shows. Equally comfortable in front of small, close-knit groups or as a keynote speaker for large audiences, Gina is a popular speaker who is widely recognized as fun, engaging, inspirational, and capable of covering a wide variety of topics of greatest concern to business owners, marketing professionals, and women. If you are interested in inviting Gina to speak at your event or location, please
Gina enjoys speaking on a variety of other topics dealing with business, marketing, moms, workplace issues, family business, leadership, effectiveness, and starting a business. She welcomes customizing a speech for your group.
Gina has spoken on the following topics:
She Gets RESULTS™ - How To Achieve Extraordinary Results
Accomplishing More with Less Stress
Increasing Employee Productivity and Loyalty
Creating a More Effective Team
Secrets of Being an Effective Entrepreneur
The Principles of Effective Leadership
Why Your Marketing to Moms Campaign is Leaving Money on the Table
How To Communicate to 85% of Business Owners
Keys to Starting a Successful Micro Business
As of June 2010, Gina will start accepting speaking engagement dates. She has now successfully overcome breast cancer and is ready to get out and speak again!
Feedback from Gina's Past Workshops
"I went to a workshop where Gina spoke about Marketing to Moms. I was so impressed with the amount of knowledge I gained in just 20 minutes. It was phenomenal. I immediately booked her for a speaking engagement for our association." -- C. Morgan
"Hearing Gina, and being a member of Moms In Business inspired me to go on my own and start my own business. I now have a thriving accounting firm, and owe a lot of my success to the connections and advice of Gina." -- Kelly W.